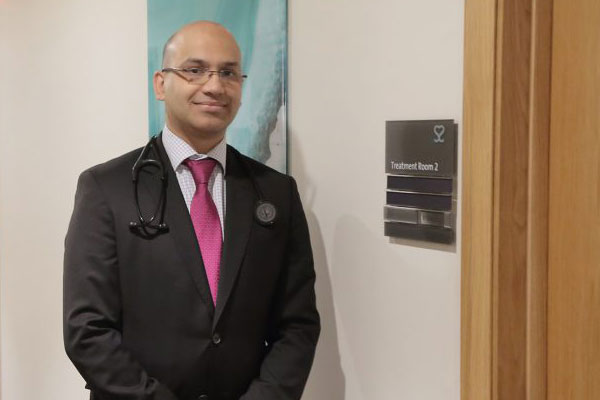 A rheumatologist is a fully trained medical doctor specialising in the diagnosis and treatment of arthritis and other musculoskeletal conditions and systemic autoimmune diseases.
Many people won't know a thing about a rheumatologist or what they do until they are referred to one by their GP. However, you can bypass your GP and book a private consultation with a specialist rheumatologist, such as Dr Bhadauria, if you are worried about a painful condition that doesn't seem to be getting any better on its own.
Many people don't like the idea of having to wait for weeks or months to see a specialist through the NHS, so knowing you can get a professional diagnosis and start benefiting from the appropriate treatment sooner can be a great weight off your mind.
Getting a professional diagnosis
Many common diseases can cause pain, swelling, and stiffness in joints, muscles, and bones. While many people may put their aches and pains down to growing older or overdoing sports or exercise, it is time to see your doctor when their painful conditions don't go away or start to get worse. Your GP may well refer you to a specialist doctor called a rheumatologist for a proper diagnosis. This is because most GPs don't specialise in the field of rheumatology or have access to the necessary medical diagnostic tools and equipment to diagnose your condition correctly.
Rheumatologists are trained to diagnose and treat autoimmune diseases that cause pain and inflammation, such as ankylosing spondylitis, rheumatoid arthritis, fibromyalgia, osteoarthritis, gout, lupus, or other rheumatic condition. When left undiagnosed and untreated, Autoimmune diseases can affect your skin, eyes, and internal organs, in addition to joints, muscles, and bones. This is why it pays not to delay getting the specialist help you need from a rheumatologist.
Rheumatologists can diagnose and treat more than 100 rheumatic diseases. These include:
• Back pain
• Fibromyalgia
• Gout
• Lupus
• Myositis
• Osteoarthritis
• Osteoporosis
• Psoriatic arthritis
• Reactive arthritis
• Rheumatoid arthritis
• Scleroderma
• Tendonitis
How a rheumatologist can help
Besides expertly diagnosing your particular health condition, your rheumatologist will also be involved in your treatment plan. They will help provide your long-term care and monitor and reassess your condition should you experience any vast improvement or sudden worsening of your symptoms.
Your rheumatologist will prescribe the most effective course of treatment based on your condition and the severity of your symptoms. This can include anti-inflammatory medication, pain relief, steroid joint injections, lifestyle changes, physical therapy and may recommend stress-relieving holistic therapies.
You can see Dr Bhadauria by booking a private consultation at one of his London Clinics.