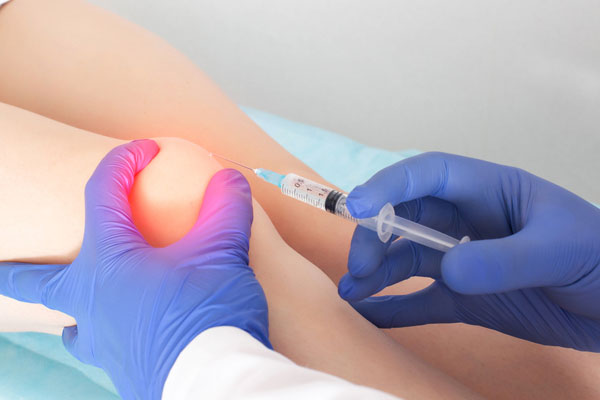 Steroid injections are an effective pain relief treatment for those with inflammatory joint conditions such as bursitis, carpal tunnel syndrome, rheumatoid arthritis, tendinitis and gout. They are administered by a specialist rheumatologist and used as part of a holistic approach to help you manage your inflammatory health condition.
The joint injections use corticosteroid medication to ease pain and inflammation directly at the source. They help to decrease inflammation in the injured joint, but they are not a cure and will only provide temporary relief and may need to be repeated over time.
Many of our patients ask how frequently they can have steroid joint injections and if it is OK to keep on having them to help manage their pain.
How many steroid injections per year?
Steroid joint injections contain corticosteroids, and because the body naturally produces cortisone in the adrenal glands, the body recognises it as a natural substance. Corticosteroids have been used successfully to treat inflammatory health conditions since the 1940s effectively, so this medication has a long and safe history.
While you can take corticosteroids by mouth, they are most effective when injected directly into affected joints such as the ankle, elbow, hip, knee, shoulder, hand, wrist and near the spine.
Corticosteroid injections can provide pain relief for many weeks, often up to several months in some patients. This will depend on the inflammatory health condition being treated and the severity of the disease.
This means it is not uncommon for patients to have repeat injections to manage their chronic inflammatory condition. However, how many injections you will need per year will be based on your individual pain management needs. However, corticosteroid injections don't tend to be administered more often than every six weeks or more than three or four times per year.
How many steroid injections can you have in a lifetime?
Like most medicines, corticosteroids carry some side effects that may or may not affect a patient. In most cases, any side effects from taking steroid joint injections are limited to the injection site, but some side effects can affect the whole body.
For this reason, your course of treatment will be closely monitored and your condition reassessed to ensure you receive the proper clinical doses at the correct intervals to ensure its effectiveness.
Side effects from corticosteroids can increase with larger doses, so it makes sense to stick with the same specialist rheumatologist and support team as they know your medical history and you as a person. How many corticosteroid injections you may receive over a lifetime will be influenced by the type of inflammatory condition you have and the severity of your pain symptoms.
Can you keep having steroid injections?
Patients need to understand that in many cases, their corticosteroid injection medication will be combined with other medicines and used in combination with physical therapy and lifestyle changes to bring about positive results.
Treating an underlying medical issue or injury can take more than steroid injections to remedy, so when Dr Bhadhauria and his team treat you, you will get a holistic approach to your treatment to help relieve pain, reduce inflammation and strengthen the supporting muscles surrounding the affected joint or area.
Taking a multi-faceted approach to your treatment goes further than simply treating your symptoms. So while steroid joint injections are fantastic for reducing pain and swelling in the affected joint, combining this solution with other therapies will improve your long-term healing and management of your symptoms.
Corticosteroid injections offer an effective treatment that can last for several weeks to several months, so your specialist will be able to continue to treat you with them as part of your ongoing inflammatory disease condition.
Why you can't have too many steroid injections?
We have been carrying out tailored treatment programmes that include regular steroid injections for private patients for many years. Corticosteroid injections have been proven highly effective for reducing pain, and inflammation and improved joint function, allowing patients to return to everyday life as quickly as possible.
How many steroid joint injections you need will depend on your individual health condition and how your symptoms present. In most cases, those with arthritic joints may need repeat injections indefinitely. Still, you don't need to worry about having too many steroid injections because we will closely monitor your treatment.
If Dr Bhadhauria believes you need ongoing repeat steroid injections, he may use a combination approach using hyaluronic acid, which has been proven very effective in the long-term management of arthritic knee joints. Hyaluronic acid is an excellent joint lubricant that isn't classified as a medication and can be safely combined with other treatments and therapies.
Many inflammatory conditions require more than one steroid joint injection, such as osteoarthritis, carpal tunnel syndrome, frozen shoulder, acromioclavicular joint pain and trigger finger.
Conclusion
Steroid joint injections are extremely safe procedures with minimal side effects. Getting an accurate diagnosis for your inflammatory health condition from Dr Bhadauria is the first step on your path to effective pain relief and optimal multi-disciplinary treatment.
If you have been experiencing long-term or worsening joint pain that doesn't seem to go away with rest or over-the-counter pain relief, you should check your symptoms with your doctor.
In most cases, your GP will refer you to a specialist rheumatologist, such as Dr Bhadauria, to diagnose your inflammatory health condition properly. However, you may have to wait for many weeks or months to see a specialist through the NHS, so booking a private consultation directly with Us in one of his London-based clinics is much quicker.
Booking a private consultation will allow you to access the latest diagnostic tests and the most effective treatments, including corticosteroid injections for effective pain relief. This will also mean your inflammatory condition will be treated earlier, causing less damage and deterioration to your affected joints.
Accurately diagnosing and treating an inflammatory disease will give you the best outcome.