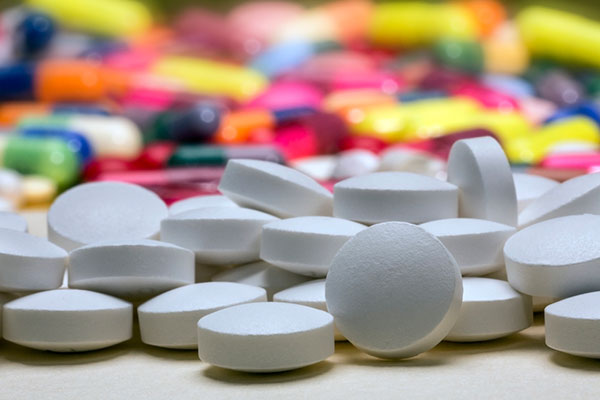 In 1986, the World Health Organization (WHO) developed a straightforward model for introducing and slowly increasing analgesic treatments for patients, which became known as the WHO analgesic stepladder.
It was devised to help reduce the number of patients dying in unnecessary pain because of drug regulations set earlier in the century that limited the prescribing and taking of opioids. The earlier rules caused an increase in the fear and stigma associated with taking pain-relieving opioids, leading to people being severely undermedicated.
The underlying principle of the analgesic ladder was to confirm that analgesics should be used incrementally, starting with non-opioids, progressing through mild and finally strong opioids, dosed to meet the patient's reported pain intensity.
In the case of treating cancer patients, it was expected that analgesic doses would need to be increased to help overcome pain as the disease progressed. The aim was to allow cancer patients to be as comfortable as possible as they approached their end-of-life stage. The risk of addiction was accepted at the end of life patients as comfort was considered paramount.
The WHO analgesic ladder for chronic pain
Although the WHO analgesic ladder was a strategy introduced by the World Health Organization to provide adequate pain relief for cancer patients, it is a system that has been used with patients with other health conditions to help them manage their chronic pain.
The analgesic ladder, developed following the recommendations of an international group of experts, has undergone several modifications over the years. These days, it is used for managing cancer patients' pain and patients with acute and chronic non-cancer painful health conditions.
Because there is a broad spectrum of inflammatory, autoimmune and degenerative health disorders, including musculoskeletal diseases, neuropathic pain disorders, and other types of chronic pain, the WHO analgesic ladder system was introduced to provide simple, scalable treatment plans to reduce and manage chronic pain conditions in non-cancer patients.
The original three-step ladder approach
The original WHO analgesic ladder mainly consisted of three steps:
1: Treatment for mild pain conditions: non-opioid analgesics such as nonsteroidal anti-inflammatory drugs (NSAIDs) or acetaminophen with or without adjuvants
2: Treatment for moderate pain conditions: weak opioids (hydrocodone, codeine, tramadol) with or without non-opioid analgesics and with or without adjuvants
3: Severe and persistent pain conditions: potent opioids (morphine, methadone, fentanyl, oxycodone, buprenorphine, tapentadol, hydromorphone, oxymorphone) with or without non-opioid analgesics, and with or without adjuvants
The term adjuvant refers to various medications belonging to different classes. These are drugs and medicines administered for different health conditions other than expressly for pain relief but can complement pain-relief medications. Also called co-analgesics, adjuvants include antidepressants, topical anaesthetics, topical therapies, corticosteroids, bisphosphonates, and cannabinoids.
Is the Modified WHO Analgesic Ladder Appropriate for Chronic Non-Cancer Pain?
Since the introduction of the WHO analgesic ladder in 1986, it has been used as a simple and valuable pain-relieving guidance in pharmaceutical pain management. However, the model has been constantly revised and amended over the years as patient medical history and knowledge about pain physiology and pain management have been updated.
The original WHO analgesic ladder was a three-set model for treating cancer pain and wouldn't be considered appropriate for current non-cancer chronic pain patients. The revised model is now a four-step ladder approach with integrative therapies being adopted at each step to help reduce or even stop the use of opioid analgesics.
The revised four-step analgesic ladder aligned with integrative medicine principles and minimally invasive interventions is now recommended to control chronic pain in non-cancer patients.
Reducing opioid dependence in chronic pain management
Over the past couple of decades, opioid addiction and abuse as become a profound social problem in developed countries. In an attempt to reduce the reliance on opioid pain relief for chronic pain management in non-cancer patients, new methodologies have been introduced to help chronic pain sufferers to manage their health condition with effective analgesic alternatives.
Chronic pain is defined as being persistent or recurrent pain lasting longer than three months or beyond normal tissue healing and recovery periods. Chronic non-cancer pain (CNCP) refers to any chronic pain that is not due to a malignancy. CNCP can be classified as neuropathic pain or nociceptive pain.
Chronic pain often triggers physiological, social, and psychological responses, exacerbating chronic pain conditions, functioning and well-being. Chronic pain is a significant health concern that negatively impacts individuals, families, and society.
Diagnosing and treating chronic pain conditions with a multidisciplinary approach that includes the revised WHO analgesic ladder, physical therapy, diet, exercise and lifestyle changes can be more effective for long-term pain management than going down the opioid medication route.
Conclusion
The original WHO analgesic ladder, which was designed for cancer pain management, has been a valuable guideline in previous years. However, the revised model, which includes four steps and less reliance on opioid pain relief, has now become the method of choice for medical specialists dealing with the control of chronic pain in non-cancer patients.
The revised four-step WHO analgesic ladder now uses integrative therapies at each step for reducing or even stopping the use of opioid analgesics. This move will significantly reduce the reliance on opioid medication in chronic pain management and encourage medical providers to act comprehensively when devising pain management programmes.
Dr Bhaudauria is a specialist rheumatologist who deals with all manner of chronic pain health conditions in a holistic way, integrating multidisciplinary and multimodality therapies for the benefit of his patients.
If you are suffering from chronic pain that doesn't seem to be getting better, or is worsening in intensity or frequency, do not hesitate to book a private consultation at one of his London clinics to get a swift and accurate diagnosis and treatment for your chronic pain condition.